542 Southwest Blvd
Kansas City, KS 66103-1919
Phone: (913) 362-0817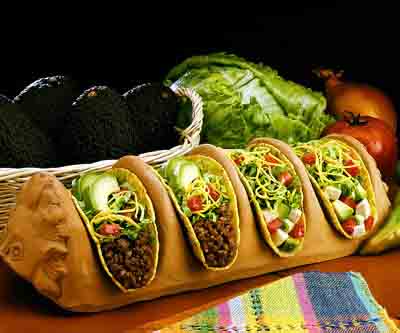 Here's what some Kansas Citians had to say about Sol Azteca Mexican Restaurant:
That has to be the best menu I've ever seen by a restaurant. The choices are endless. It may take a little studying before you can order but the food will have you coming back often enough to get plenty of practice. I especially appreciate the affordable A La Carta choices i.e. 3 soft chicken tacos, 3 chicken enchiladas (about $5 each, goodsize).

We've been going to Sol Azteca, and their sister restaurants in Johnson County - Dos Reales, for over 5 years and have yet to have a bad meal! We have birthdays, anniversary parties, engagement parties there, besides going on our own at least once a month. Service, authentic food, ambiance (esp. Dos Reales) and very inexpensive prices keep us coming back for more!

I Love Mexican food. For years I had been searcing for a Mexican restaurant that I could really fall in love with. I found many good ones, but it wasn't until I walked into Sol Azteca that I found my south-of-the-boarder-heaven. For both value and quality, I have yet to find anything approaching it. Over the past 4 years, I have tried almost everything on their extensive menu, and I haven't found anything that was less than very good. A good place to start would be their three "Super Special Dinners, " which give you huge portions and variety at an incredible $7.50. The number 1, my favorite of the three, gives you a tamale, a taco, a chalupa, a chilli relleno, an enchilada, rice and beans!--easily enough food for two. Picking blindly from the menu will, however, garner nothing but winners. Special mention, though, should be made of the enchilada nortenias, chilli Colorado, Burrito Rojo, fajita cassadias and their chicken choices. (When there is a choice pick chicken over beef. Their beef is excellant--and they offer ground or shredded--but their chicken is extraordinary.) The service is extremely fast and efficient--so much so, that you should not order immediately. Instead relax with a drink and their warm and wonderfull corn chips and salsa which comes to your table before you have a chance to sit down. If you are really big into ambience, than you might knock down their rating one-half point. Even so, for my money, it's one of the best dining experiences in the KC area.