______________________
The Bristol
Bristol
Bar & Grill. 5400 West 119th Street Town Center Plaza Leawood,
KS
66209
913-663-5777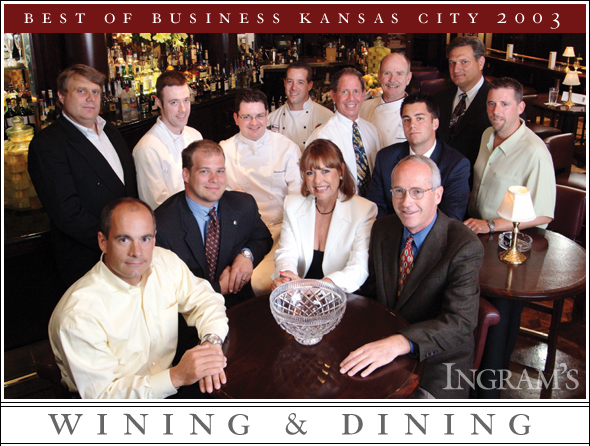 The Bristol is everything you could possibly want in a fine dining restaurant. Highly deserving of Ingram's "Best Business of Kansas City" award, The Bristol delivers with unmatched quality in seafood, steaks, atmosphere, class and prompt and courteous service. The Bristol Restaurant is possibly the best happy hour hot spot in Kansas City.
Excerpt from The Pitch Kansas City Newspaper...
I was happy to hear that The Cordish Company, developer of downtown's Power & Light District, had reeled in a new
Bristol Seafood Grill
as part of its urban entertainment plan. Downtown hasn't had a seafood restaurant since 1992, when the Colony Steakhouse & Lobster Pot vacated the old Rusty Scupper location on 14th Street so the city could tear down that building for the first Bartle Hall expansion.
By the time the current Bartle Hall project is finished — sometime next year — there should be a brand-new Bristol on 14th Street between Main and Walnut. That would mark a triumphant return to the Missouri side of the state line for the seafood concept launched by legendary restaurateurs Joe Gilbert and Paul Robinson back in 1980. A fixture on the Country Club Plaza for 15 years, the Bristol Bar & Grill was busy right up to the day that the J.C. Nichols Company refused to renew its lease in 1995.
At the time, there was a rumor that something fishy was behind the Bristol's loss of its lease: that restaurateur Nabil Haddad, who then owned five Plaza dining operations, coveted the Bristol location. Supposedly his good pal Lynn McCarthy, then chairman and chief executive of the Nichols Company, made sure he got it. The Bristol was kicked out, and Haddad spent a fortune turning the space into a spectacular failure, the short-lived Jules. (Capital Grille took over the location in 2000.) McCarthy didn't fare so well, either. After being accused of looting the Nichols Company, the well-paid executive pleaded guilty to a charge of racketeering conspiracy in 2001.
The Bristol, now owned by Leawood-based Houlihan's Restaurants Inc., had the last laugh. Banished from the Plaza, the restaurant packed up everything — including the Bristol's signature architectural feature, a 19th-century English glass dome, which was dismantled piece by piece and installed a year later in the main dining room of a new Bristol in the just-completed Town Center Plaza. The seafood restaurant has been packing in patrons like sardines ever since.
Recently, though, the Florida-based Bonefish Grill arrived in Leawood. I wondered whether it might be luring away some of the Bristol's brisk business, so I went back to the Bristol (last reviewed here in 2002) to see what was going on.
I didn't know whether I'd need a reservation for a Tuesday night, but my intuition told me to go ahead and call, just in case. That turned out to be a good decision, because when I walked through the Bristol's door at 7 p.m. there were already several customers standing around the foyer, waiting for a table.
I was with Dick and Renée, and we didn't have to wait a minute; a hostess escorted us straight to a banquette ... right by the entrance to the kitchen. Ordinarily, I would have balked at this, but I was hungry, and it didn't seem to be too noisy or congested. Besides, the spot made it easy to wave over those tong-wielding biscuit servers who roam the dining room with their trays of hot drop biscuits. Those damned addictive baking-powder confections are another Bristol tradition that moved out to Johnson County with the antique dome; they still taste like the recipe printed on a Bisquick box, but with an extra handful of sugar.
Veteran oyster shucker Virgil Brown also made the move out south. Still, when our server handed over the single-sheet menus, I was surprised to see that the restaurant had changed its name to the Bristol Seafood Grill. "We've been in a transition for the last 12 months," explained one of the managers, ignoring my raised eyebrow. I mean, does a place need to go through a yearlong "transition" just to change a name?
That transition hasn't involved the menu prices, I was happy to note, and there are now several more "signature entrées" and five more appetizers to chose from, including an extremely generous sampler plate with flaky jumbo lump crab cakes, a heap of fried calamari and a tidy arrangement of shrimp scampi. The crab cakes were more crab than cake; the calamari was flash-fried with just a smattering of chopped jalapeño, so it wasn't too fiery; and the scampi's creamy garlic sauce was a refreshing alternative to that all-too-common greasy yellow butter-garlic glop.
This appetizer nearly did me in, but Renée bravely tackled the Bristol's variation on the caprese salad, in this case a tower of tomato slices and milky mozzarella squares on a bed of watercress, topped with a squiggle of gingered onion and splashed with a surprisingly sweet prosciutto vinaigrette.
Rather than order a full meal after appetizers and salad, Renée decided to share dinner with me. A wise move, because the lobster ravioli I'd ordered was far too rich for me to have eaten alone. The ravioli is filled not with shellfish but with minced, grilled vegetables — the tender bits of lobster meat are scattered on top of the pasta pillows, and the whole concoction drips with a decadent lobster-cream sauce.
Patrons don't have to request for a split dinner to be served on two different plates at the Bristol; it's simply done. The service here now is as polished and professional as it was decades ago, when Gilbert-Robinson was famous for having the best-trained waitstaffs in the city. Our waitress that night was a beautiful young woman, a native of Ethiopia, who fussed over Dick — we were celebrating his birthday — suggesting the potato-wrapped grouper for his dinner. He was pleased by the flaky fish, bound in thin slices of potato and then fried so that the wrappings turned golden and crispy.
"Thank goodness it's wrapped in fried potato," Dick whispered after the first bite. "Grouper doesn't taste like anything."
Actually I think grouper is a fine lean fish, but chef Dan Uche's potato crust and cabernet reduction gave it a lot more oomph than if it had been broiled and served unadorned.
______________________
EBT Fine Dining
1310 Carondolet KCMO 64114
816-942-8870
Official Website - www.ebtrestaurant.com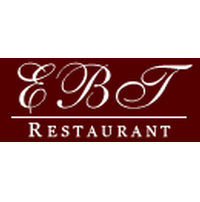 EBT has always been the standard by which all other Kansas City fine dining restaurants have been judged. EBT features one of the deepest wine lists of any Kansas City restaurant, a menu of recipes that warrant the use of private security guards to protect, a great location straight off of I-435 and State Line (the state line between Kansas and Missouri) and on top of everything - LIVE JAZZ.
EBT HISTORY
Established at Westport Landing just prior to the Civil War, Coates and Gillis originally outfitted traders, trappers and pioneers bound for the frontier on the Oregon and Santa Fe Trails. By the 1890's, new ownership had emerged, and investors W.E. Emery, Joseph Taylor Bird Sr. and William Thayer constructed a beautiful new building on 11th Street, occupying the entire block between Grand & Walnut. The Victorian masterpiece, with its arcades, brick columns and neo-Romanesque capitals, was a bastion of Kansas City's Petticoat Lane
until it was razed in 1971.

Opened in 1979, EBT Restuarant was designed to recall the style and sophistication of Kansas City's Gilded Age. Built around the original column capitals and elevator cages from the 11th Street location, and incorporating other artifacts from the historic site, EBT remains faithful to Emery, Bird & Thayers pledge:

"This great store will be here every day, striving to please you
with reliable merchandise combined with excellent service".
______________________
J. Alexander's
11471 Metcalf Ave Overland Park, KS 66212
913-469-1995
Official Website - www.jalexanders.com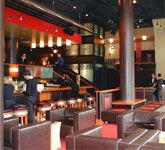 J. Alexander's History


source: www.wikipedia.com
J. Alexander's was founded in 1991 by three Nashville businessmen, Jack C. Massey, Earl Beasley, Jr. and John Neff, Jr. According to their online profile, they are "positioned between the heavily themed casual dining restaurants and the fine dining white tablecloth dinnerhouses." They operate twenty-eight restaurants in twelve states.
In 1996, Volunteer Capital Corporation, which runs the organization, sold 52 Wendy's franchises to focus on the JAX business. In 1999, they rejected a $33.8 million buyout bid from the rival O'Charley's Inc. J. Alexander's does not accept reservations, but allows call-ahead seating. J. Alexander's is very similar to Houston's Steakhouse in both menu and operations.
______________________
The American Restaurant
200 E. 25th Street, Kansas City, Missouri 64108
Phone: 816.545.8001
Official Website - www.theamericankc.com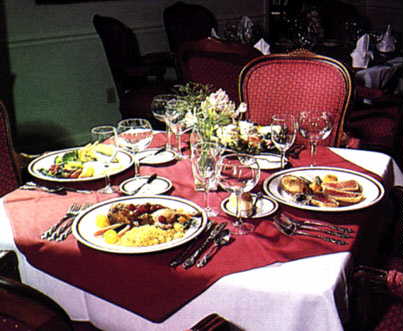 The American Restaurant has long been the choice of famous names who've asked for the best restaurant in town. (But we don't host and tell.) That's because everyone who joins us enjoys the same delightful experience: The most romantic panorama in Kansas City. The elegance of your table. The incomparable cuisine. All delivered with impeccable service that takes fine dining to new heights.

Located in Hallmark's famous Crown Center complex in Kansas City, Missouri, The American Restaurant has been consistently awarded both the AAA Four Diamonds and the Mobil Travel Guide Four Stars ratings—recognition of the highest levels of cuisine and hospitality.

"What makes The American Restaurant's cuisine unique? I believe in staying true to the origins of our food, whether it's a Japanese recipe or a traditional Yankee dish. When I put together pairings for your meal, the tastes work together in a way that makes sense—delicious sense. The presentation is always clean and simple, not excessively garnished. I never stop learning: from other chefs, from my travels, from my colleagues in the kitchen—and from our guests. That's what makes being a chef so exciting."

Executive Chef Celina Tio
Chef of the Year 2005 – Chef Magazine
______________________
Bluestem
900 Westport Road, Kansas City, Mo.; (816) 561-1101.
Official Website - www.bluestemkc.com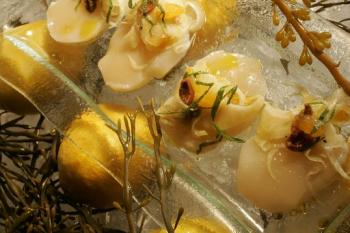 Bluestem in Kansas City illustrates the global connection of cooking these days. The menu of this trendy restaurant -- which offers three courses for $55; four for $65, seven for $75, along with 12 courses for $100 -- is liberally peppered with terms that have come into vogue here in the last year or so: crudo, Berkshire Pork, Wagyu beef, piquillo peppers and bottarga, to name a few.

I could have been in San Francisco, New York or Barcelona -- except I had driven to Westport, one of the oldest areas of Kansas City. It was ironic to see one of the United States foremost practitioners of this scientific style of cooking, Jose Andres of Cafe Atlantico, Jaleo and Zaytinya in Washington, D.C., was dining in the restaurant the same night I was, sipping the complimentary shot of white grape juice capped with a watermelon foam.

The menu sounds familiar to anyone on the West Coast: I enjoyed slices of hamachi draped over a nob of lemon-marinated fennel and dollops of golden trout roe, and a foamy sweet corn soup poured from a tea pot over a mound of torpedo onions, Black Forest ham and piquillo peppers.

Bluestem, which is owned by Colby and Megan Garrelts, offers some creative combinations that would be at home in the most cosmopolitan setting, including escargot with chewy lengths of fidua pasta bathed in sofritto with linguica sausage.

The interior also has a very cosmpolitan feel: It sports an exposed ceiling with air ducts snaking around the room and brick walls, accented with a wall of framed mirrors. Just recently the couple took over a hair salon next door and converted it into a bar, with a separate menu; another trend that seems to be flourishing on both coasts.

It was great to see the cutting edge shining in the Midwest, where barbecue and fried chicken reign supreme: the Berkshire Pork loin is served with a Parmesan foam, mustard spaetzle, asparagus and cippolini onions with a sprinkling of gremolata, creating a dish that had hearty sensibilities but respected the ingredients.

The most exciting dish was the Campo Lindo Hen, which came from a nearby farm in Missouri. The chicken breast, which was sliced and fanned over smothered okra and coarse-ground grits, was some of the best poultry I've had. When you add in the Crum's Heirloom tomatoes that appear on such dishes as the Hawaiian Sun Fish and in a pasta with bottarga and Parmesan, you get a real sense of place.
From The Kansas City Star...

"This is my third visit to Bluestem, my foodie friend's first. We marvel at the artistry of the appetizer, clink our glasses of Van Duzer Pinot Noir together and inhale deeply in anticipation.
...At Bluestem, every meal over the course of four visits was a multisensory experience.
...The coup de grace is Colby's signature appetizer, the torchon of foie gras ($16). Miniature cubes of Sauterne gelee shimmy atop the muted pink round. A pair of warm brioche and three modestly peppered cherries are lined up across the serving dish.
...Clearly this young couple learned well from their teachers. Their talent will serve Kansas City well. Luckily for us, we can cheer them from white linen seats as their reputation grows beyond our Mo-Kan borders. "
Food: 3 1/2 stars
Service: 3 1/2 stars
Atmosphere: 3 1/2 stars
- Lauren Chapin
The Kansas City Star
June 18, 2004
______________________
JJ's
910 W 48th St
Kansas City, MO 64112
(816) 561-7136
Official Website - www.jjs-restaurant.com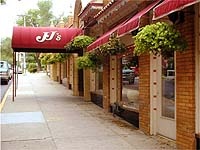 This intimate bistro just two blocks west of the Country Club Plaza offers excellent American continental cuisine and one of the most comprehensive international wine lists in the city. Dubbed "a world-class restaurant" by the Kansas City Star and "one of KC's top restaurants" by the Zagat Survey, this is the ideal spot to enjoy a memorable meal. Some menu standouts include Paco's Shrimp ($7.95), deep fried jumbo shrimp stuffed with horseradish wrapped in bacon served with Dijon mustard sauce, and Chicken Marsala ($15.95), a house specialty.
______________________
The Intercontinental Hotel and Restaurant
______________________
M&S
Country Club Plaza
4646 JC Nichols Parkway
Kansas City, Missouri 64112
(816) 531-7799
Official Website - www.mccormickandschmicks.com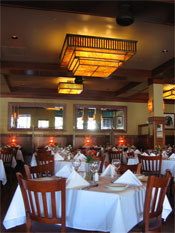 M&S Grill is located on the corner of 47th Street and J.C. Nichols Parkway, across from the historic Mill Creek Park and JC Nichols Fountain.

M & S Grill is a classic American grill patterned after the legendary eateries that became the cornerstone for restaurant dining in the early 20th century. Our menu features aged steaks, the freshest seafood selections and our unique roasted meat and poultry choices, served in a classic, straightforward style. M & S Grill is THE place to socialize in the best of traditions. . . serving classic, hand built cocktails in a spirited and lively atmosphere.

Visit our lively bar and enjoy traditional mixology at its best, featuring classic cocktails made from scratch using fresh-squeezed juices, bottled and tap beer, or choose a selection from our extensive wine list to accompany your meal.
______________________
Ophelia's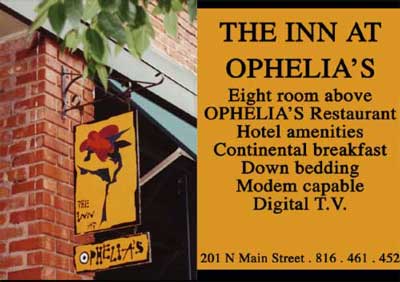 We know that the phone number is cut off of the picture so here it is - 816-461-4525

OPHELIA'S is a great place anytime. Lunch with friends or business associates. Dinner dates, special occasions or just because. Lunch: Sandwiches, Salads, Seafood, Steak, and our popular Spa menu. Dinner: lunch plus more. Steaks, Seafood, House Specialties and Chef's fabulous specials! Join us, you may become one of our regulars!

Stay in the 8 room Inn above the restaurant for a quiet retreat!

______________________
The Peppercorn Duck Club
2345 Mcgee St
Kansas City, MO 64108
(816) 421-1234
Official Website - www.hyattkc.com/pcdc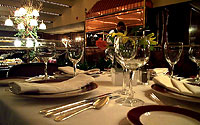 As one of Kansas City's renowned restaurants, The Peppercorn Duck Club provides an atmosphere of elegance, superb dining experience, a host of wine selections and a fabulous chocolate bar to indulge in with the final result of making your evening extraordinary.
______________________
The Skies
2345 Mcgee St
Kansas City, MO 64108
(816) 421-1234
Official Website - www.hyattkc.com/skies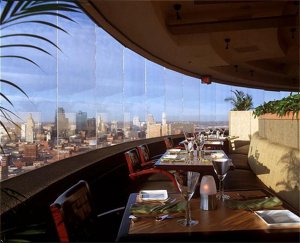 Skies is located on top of the beautiful Hyatt Regency. Unique to Kansas City, this extraordinary restaurant slowly revolves and gives the diner an amazing view of the Kansas City skyline.

Awards:

Kansas City's Best View
Most Romantic
Reservations requested
$4.00 valet parking with validation

Hours of Operation:
Cocktails:
Monday-Thursday
5:00pm - 12 midnight
Friday & Saturday
5:00pm - 1:00am
Sunday
5:00pm - 11:30pm

Dinner:
Sunday-Thursday
5:30pm - 9:30pm

Friday & Saturday
5:30pm - 10:30pm

______________________
The Raphael
325 Ward Parkway
(at Wornall Road) On the Country Club Plaza
Kansas City, Missouri 64112
Phone: (816) 756-3800
information@raphaelkc.com
Toll Free Reservations (800) 821-5343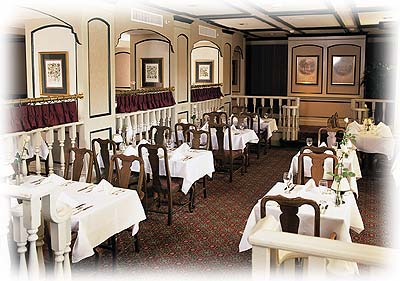 Kansas City's "Best Kept Secret"
for Business... or Pleasure
The private setting and sophisticated fare of the Raphael Restaurant provide the perfect venue for serious business luncheons or romantic dinners. Located on the edge of Kansas City's historic Country Club Plaza, our restaurant is the perfect place to hold your corporate meeting, special event, rehearsal dinner, or reception. Special monthly Prix Fixe menus are available from our catering department.
Online Reservations are now available.

Considered the city's most refined hotel dining room, according to the Pitch Weekly, and recently voted Kansas City's "most romantic," the Raphael Restaurant offers an elegant dining experience featuring Chef Peter Hahn's creative continental cuisine on a menu that changes weekly. Multiple levels provide every table with a setting so private you can almost hear your wine breathe.

One of the most comfortable and cozy settings in the city, the Raphael Lounge offers a piano bar with live entertainment on Thursday, Friday, and Saturday evenings. The lounge is open daily until Midnight (except Sundays).
Hours of operation:
Breakfast: Monday - Friday, 6:30 am - 10:00 am, Saturday & Sunday, 7:00 am - 11:00 am
Lunch: Monday - Saturday, 11:00 am - 3:00 pm, Sunday, closed.
Dinner: Monday - Saturday, 5:00 pm - 11:00 pm, Sunday, closed.
______________________
Starker's Reserve
201 W 47th Street
Kansas City, Missouri 64112
816-753-3565
Official Website - www.starkersreserve.com

Starker's Restaurant is one of Kansas City's best kept secrets. Situated on the southwest corner of 47th Street & Wyandotte Street above Restoration Hardware, Starker's has become a legendary favorite for locals and discerning visitors looking for upscale yet comfortable, traditional dining.
Founded in 1972, Starker's Restaurant is one of Kansas City's last privately-owned restaurants on the Country Club Plaza, an upscale shopping and dining district. Starker's offers Lunch Monday thru Friday 11:30am-2:00pm and Dinner Monday thru Saturday 5:30pm-10:00pm in an intimate dining room. Private dining rooms for business, social and family events are available for lunch or dinner. The restaurant offers guests an unmatched dining experience of seasonal, contemporary American cuisine in an atmosphere of elegance, sophistication and intimacy.
| | |
| --- | --- |
| | With a current inventory of 1,665 styles of wine and a bottle count reaching 12,000, Starker's has one of the regions most extensive wine lists. Wine Spectator honored the restaurant with the "Grand Award" from 1992-2005, a prestigious award currently given to only 88 restaurants around the world. |
Starker's Executive Chef and Owner John McClure is dedicated to crafting a menu that compliments the restaurant's award winning wine list by combining the best and freshest ingredients from local and international growers to produce his beautiful presentations and flavorful dishes.
______________________
Eastside Family Restaurant
905 Isley
Excelsior Springs, Missouri 64024
816-637-5800
HOURS:
| | |
| --- | --- |
| Monday | 10am - 6pm |
| Tuesday - Saturday | 7am - 9pm |
| Sunday | 10am - 6pm |
Family owned and operated 7 days a week, The Eastside Family Restaurant is a "must eat" on our list of great restaurants. Owners Sarah and Roland Dice will be happy to serve you personally from their menu that includes an All Day Breakfast, Excelsior Spring's Biggest Tenderloin, Steak Dinners and don't forget Sarah's Homemade Pies and Cakes.

Give your kitchen and your dishes a rest for a night and head out to Eastside Family Restaurant for a true Home Cooked Meal. Eastside offers a seniors menu as well as a children's menu. Stop by and tell Roland and Sarah that we said "Hi!".
Eastside Family Restaurant MENU





Traditionally Cooked Thanksgiving Dinner
Open Thanksgiving 11am - 4pm
___________

Homemade Pies

Pecan
Dixie
Apple
Cherry
Pumpkin
Sweet Potato
Custard
Coconut Custard
Raisin
Gooseberry
Coconut Cream
Lemon Merangue
Chocolate Cream
Pineapple Cream

Fruit Tarts

Homemade Breads

Homemade Muffins
=======================================================================================
ALL KANSAS CITY RESTAURANTS