______________________
The Argosy Casino Buffet Restaurant
777 Argosy Pkwy, Riverside - (816) 746-3394

With an outdoor Mediterranean theme, The Argosy Casino's Terrace Buffet offers a cozy environment to enjoy breakfast buffet, lunch buffet and dinner buffet 7-days a week. Freshly prepared buffet entrees and buffet desserts include everything from an elaborate salad bar buffet, fresh fish to pasta and freshly made pizzas. Open daily.
The Argosy Casino may suck your wallet dry, but at least after you gamble around $750 you can get a free buffet dinner! Don't worry though, if you're not a gambler you can still eat at one of Kansas City's best buffets for a great price.



Menu and prices are subject to change - and so is your bank balance if your wife is still on the boat gambling while you eat!
______________________
Harrah's Casino Buffet Restaurant
1 Riverboat Dr Kansas City, MO 64116 (800) 427-7247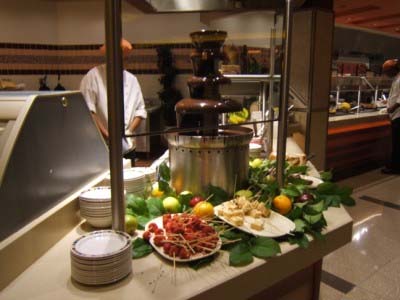 Experience a level of service at Harrah's North Kansas City Casino and Hotel that you won't find anywhere else in Kansas City. If you're looking for award-winning dining, Harrah's has it all.
Harrah's Casino Buffet Restaurant Info:
Reservations: 816-472-7777
Cuisine: Buffet
Hours: 7 Days a Week
Cost: $15 - $25

There's something for everyone at the Harrah's Casino Buffet.

Our chefs will tempt your palate with an endless variety of delicious freshly prepared foods.

Be sure to stop by the focal point of the restaurant, which features the Center Cut carving station. Here you'll find an exciting variety of mouthwatering hand-carved meats prepared in unique fashions and flavors.
Harrah's Casino has some great wait staff and a very nice atmosphere. After you're done winning some serious casino money you can pile your plate high at Harrah's Casino's awesome buffet. One thing that the Harrah's Casino Buffet has that the other casino buffets do not is - wait for it - collared greens. Yeah baby!!
______________________
Ameristar Casino Buffet Restaurant
3200 North Ameristar Drive Kansas City, MO 64161 866.MORE FUN or 816.414.7000




The Horizons Buffet has the recipe for success: high quality ingredients, lots of choices and creative chefs who have mastered a wide variety of cuisines, all at an affordable price. The recipe has proven so popular that the buffet is often packed with diners trying to decide between spaghetti Bolognese, tacos with salsa verde, Shanghai chicken or Kansas City barbecue. The beef stir-fry with seasonal vegetables is tasty; so is the all-American burger. The Horizons Buffet wins the vote of the local crowd and was named "Best Buffet" in the Kansas City Magazine "Best of Kansas City" readers' poll.

816.414.7000 ext. 2617
______________________
Isle of Capri Casino Buffet
1800 E Front St Kansas City, MO 64120-1406 Phone: (816) 855-7777

Isle of Capri Casino's all-you-can-eat breakfast, lunch and dinner buffets feature great food at affordable prices. Plus specialty dinners let you add broiled steaks and shrimp, crab legs and everyone's buffet favorite, prime rib.

Want something sweet to top off your meal? Isle of Capri Casino's delicious dessert section feature fresh-baked cookies, ice cream and Golden Boy Pies, a Kansas City-favorite.

Whatever your taste, Calypso's Buffet at Isle of Capri Casino is sure to satisfy your appetite any day of the week.

Please see the hostess for children's pricing.

For more information, please call 816-855-7777.
______________________
Hometown Buffet Restaurant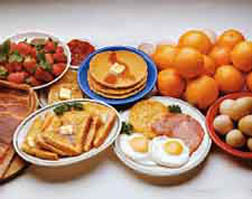 Hometown Buffet LOCATIONS
Hometown Buffet - South Kansas City
4601 E Bannister Rd, Kansas City, MO - (816) 763-9512
Hometown Buffet - Independence, MO
13720 E US Highway 40, Independence, MO - (816) 478-1012
Hometown Buffet - North Kansas City
8350 N Broadway St, Kansas City, MO - (816) 436-5336
Enjoy almost 100 delicious items from Hometown Buffet everyday favorites to a large variety of Hometown Buffet daily features and much more. The Hometown Buffet is busy cooking all day long so you'll always get fresh food. Plus beverages and desserts at Hometown Buffet's own Dessert Central® are included in the low price ($8 - $15).
Hometown Buffet Classic Favorites Served Every Day -

Our Classic Favorites are served every lunch and dinner in addition to Hometown Buffet's daily featured menu items. Enjoy classics such as:
Made-from Scratch Macaroni and Cheese
Hand-Breaded Fried Chicken
Fried Fish
Baked Chicken
Baked Fish

Hometown Buffet features a multitude of Delicious Side Dishes made in small batches for every meal. Like:
Mashed Potatoes
Baked Beans
Fresh Vegetables
Corn Bread Dressing
French Fries
Two Home-Style Soup Favorites
AND, a wide selection of fresh ingredients to Create Your Own Salad.

Beverages and Desserts are always included in Hometown Buffet's low price. Enjoy a cold or hot beverage with one of many scrumptious desserts like Hometown Buffet's Signature Hot Fudge Sundae Cake.

Join The Hometown Buffet for Breakfast on Sunday and Saturday where available. See store for details. Choose from an extensive hot and cold breakfast choices including eggs, pancakes, waffles and assorted pastries.

Join The Hometown Buffet any day of the week for a home-style meal in a casual family-oriented atmosphere.
______________________
Golden Corral Buffet Restaurant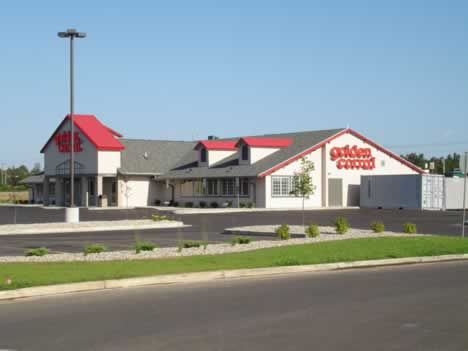 While not the most impressive place to take a date, The Golden Corral Buffet is a great place to "when in Rome" eat with the overweight midwestern-ites. Pile on the meat and taters fat boy - we're gonna watch NASCAR tonight!
Everyday Golden Corral Buffet favorites!

Golden Corral's Wake and Bake Breakfast
Bacon
Bacon and Cheese Quiche
Blueberry and/or Chocolate Chip Pancakes
Corned Beef Hash
Creamed Chipped Beef
Eggs, Scrambled
French Toast
Golden Waffles
Hash Brown Casserole
Hash Browns
Omelettes
Plain Pancakes
Sausage Gravy
Sausage Links
Sausage Patties
Spinach Quiche
Split Smoked Sausage
Texas Toast

Golden Corral Buffet Juice
Apple Juice
Orange Juice
Orange-Guava-Passion Fruit

Golden Corral Buffet's Country Boy Meat
Asian Pork Roast
Awesome Pot Roast
Barbecue Chicken (Leg Quarter)
Barbeque Pork
Barbeque Pork Spareribs
Bourbon Street Chicken
Broccoli & Rice
Brown Gravy
Buttered Noodles
Chicken & Pastry Noodles
Chicken Breast Fillet, Marinated
Chicken Tenders
Country Fried Steak
Creamy Chicken & Pasta
Fresh Fried Chicken (Leg/Thigh)
Grilled Pork Chop or Loin Slices
Grilled Pork Chops (with bone)
Ham (Pit Style,Smoked)
Macaroni & Beef
Macaroni & Cheese
Mashed Potatoes(Scratch)
Meatloaf
Pizza
Pork Roast
Pork Steaks
Potato Casserole
Poultry Gravy
Roast Beef
Roasted Herb Pork Chop
Rotisserie Chicken (Breast/Wing)
Sirloin Steak
Spaghetti Pasta
Spaghetti Sauce
Steakburgers
Tamales, Beef
Tortillas
Turkey Breast w/ Wing
White Rice

Golden Corral Buffet Seafood
Battered Pollock Fish Fillet
Breaded Butterflied Shrimp
Breaded Jumbo Shrimp
Breaded Shrimp
Cajun Style Fish Fillet
Cajun Whitefish
Cracker Crumb Fish Fillet
Hot Steamed Shrimp
Kentucky Style Fish Fillet
Salmon Fillet, Carved
Salmon Steaks, with Lemon Herb Butter Sauce
Steamed Whitefish

Golden Corral Buffet Vegetables
Asian Beans
Black-eyed Peas
Brussels Sprouts
Cheese Sauce, Cheddar
Collard Greens
Corn-on-the-Cob
Creamed Corn
Creamed Spinach
Cut Corn
Escalloped Apples
Fresh Steamed Broccoli
Fresh Steamed Cabbage
Fresh Steamed Carrots
Fresh Steamed Cauliflower
Fresh Vegetable Trio
Glazed Sesame Carrots
Green & Yellow Beans
Green Beans
Green Peas
Northern Beans
Pinto Beans
Ranch Style BBQ Beans
Southern Style Cabbage
Spinach
Squash Medley
Steamed Zucchini
Turnip Greens
Yams & Apples
Golden Corral Buffet Salads
Cajun Potato Salad
Carrot & Raisin Salad
Chicken Salad
Coleslaw
Macaroni Salad
Marinated Mushroom
Marinated Vegetables
Seafood Salad
Sliced Yellow Peaches
Tuna Salad

Golden Corral Buffet Condiments
Cocktail Sauce
Honey Butter (indiv.cup)
Tartar Sauce

Golden Corral Buffet Salad Bar Meats
Turkey - Dark, Julienne
Turkey - White, Julienne

Golden Corral Buffet Salad Dressing
Blue Cheese Dressing
Creamy Caesar Dressing
Dijon Honey Mustard Dressing
Fat Free Blue Cheese Dressing
Fat Free Ranch Dressing
Fat Free Red French Dressing
Fat Free Thousand Island Dressing
French Dressing
Hot Bacon Dressing
Lite Olive Oil Vinaigrette
Poppy Seed Dressing
Ranch Dressing
Red French Dressing
Sesami Oriental Dressing
Thousand Island Dressing

Golden Corral Buffet Soup and 'Tater Bar
Baked Potato(small, plain)
Broccoli Cheese with Florets
Chicken Gumbo
Chicken Noodle
Clam Chowder
Potato with Bacon
Sweet Potato (Small)
Timberline Chili
Vegetable Beef
Golden Corral Buffet Dessert and Heavy Starch Bar
Apple Pie
Banana Pudding
Bread Pudding
Brownies
Carrot Cake
Cherry Pie
Chocolate Chip Cookies
Chocolate White Chip Cookies
Cinn-a-Gold Rolls®
Coconut
Key Lime Cheesecake
Oatmeal Raisin Cookies
Peanut Butter with Nuts Cookies

Breads/Muffins
Corn Muffins
Kaiser Rolls
Skillet Cornbread
Yeast Rolls (without butter)

Ice Cream/Toppings
Caramel Topping
Chocolate Soft Serve
Chocolate Syrup
Hot Fudge Topping
Sherbet
Strawberry Topping
Turtle Coating
Vanilla Soft Serve

No Sugar Added/Sugar Free
Blueberry Pie
Cheesecake
Chocolate Chocolate Chip Cookies
Oatmeal Bar
Red Gelatin
Sugar Free Strawberry Cake
Vanilla Cake
______________________
Ponderosa Buffet Restaurant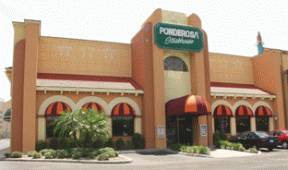 Ponderosa Buffet Kansas City LOCATIONS
Ponderosa Buffet Liberty
205 N State Route 291, Liberty
(816) 781-8323

Ponderosa Buffet Northland
7210 Ne 43rd St
Kansas City, MO 64117
Golden Corral Buffet Blue Springs
727 SW Us Highway 40, Blue Springs
(816) 220-3410


Golden Corral Buffet Shawnee
9510 Quivira Rd
Shawnee Mission, KS 66215


Phone: (913) 888-7672
Ponderosa Buffet Restaurants have a rich history of pleasing their guests with great tasting food, a friendly atmosphere and hospitality that will make you feel right at home.

Ponderosa Buffet Restaurants serve flame-grilled Steaks, Chicken & Seafood coupled with their All You Can Eat Buffet Spread - featuring Cold Salads, Fresh Baked Bread, Hot Vegetables, Fried Chicken, and Delicious Desserts - all for one great price.

And even if they say so themselves, they don't think you can eat this well for this amount of money anywhere else - No Brag, Just Fact. So C'mon in to one of our Ponderosa buffet restaurants and enjoy a heaping helping of our hospitality!
Ponderosa Buffet Restaurant Daily Items:

• Top Sirloin
• Chopped Steak
• Chicken Monterey
• Seafood Platter
• Sirloin & Fried Shrimp
• Sirloin & Chicken Monterey
• Ribeye
• Sirloin Tips
• Grilled Chicken
• Grilled Salmon
• Sirloin & Grilled Shrimp

• Cheeseburger
• Chopped Steak Dinner
• Chicken Sandwich
• Chicken Monterey Dinner

• 6oz. Sirloin
• Grilled Chicken
• Senior's Buffet Spread
• Chopped Steak
• Baked Tilapia

• Chicken Strips
• Kid's Buffet Spread
• Sirloin & Fries

Sautéed Onions
Grilled Shrimp
Hot Buttered Mushrooms
Fried Shrimp
=======================================================================================
ALL KANSAS CITY RESTAURANTS